Expression through the Fibers of Creation
Limited only by time and imagination, embroidery provides bountiful possibilities for personal expression. It also happens to be conveniently compact, as well as easily transported. Even the most unskilled hand embroideries can give a strong impact, their imperfections and variations can cause a person to stop and imagine the love and intention someone has given to this piece through these stitches.
There seems to be a hunger for these techniques that connect us back to the tactile world around us, techniques that require time and patience, allowing space for the mind to slow down and invite a mood of relaxation.
(want to see more embroidery? Check out my latest project, Stitch Wish, a collection of hand-embroidered talismans for your magic making pleasure!)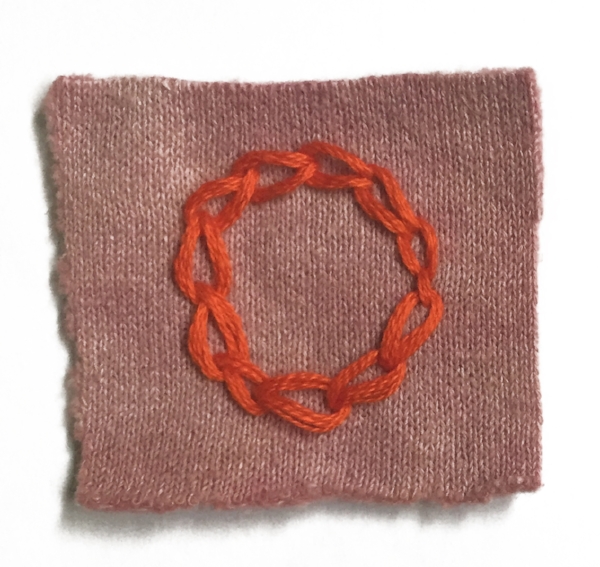 Get the Guide
Want to know more about embroidery, and creating your own designs, but can't make it to the workshop? I'm offering the 24 page how-to guide included with my workshops for sale in the online shop.
It gives tips and instructions for using embroidery to create your own artwork. Including: choosing your materials, 15 stitches from simple to more intricate and decorative designs to inspire your work, some notes on intuitive stitching, and how to allow the mind to slow down and let your creative energies to take charge.
NOW OFFERING PDF EMBROIDERY PATTERNS IN MY ETSY PATTERN SHOP!
Want to know more about using embroidery as a spiritual tool? Pre-order my other embroidery book, "Illuminated Stitches" here.
EMBROIDERY FAQ's
What kind of embroidery thread should I use? I'm most tempted to answer this with: whatever you can find, and whatever strikes your fancy, but there are some general guidelines. There are two kinds: A rope-like twisted thread, often called Pearle thread, and embroidery floss that is composed of six strands of thread (I include Japanese sashiko thread in this catagory). The rope like thread should be used as is, and should not be untwisted, while the embroidery floss allows you the option of separating it into smaller threads, using just two or three strands for a more delicate effect (this is especially helpful with lightweight fabrics that do not do well with thick threads)
The pearle, or rope-like threads have more of a shiny finish, and are sold in a variety of widths, but most fabric stores only sell one that is much thicker. If you can fancy fiber shop in your area, I suggest you pick up some of the finer pearle threads and experiment with these.
Sashiko threads have a dull finish which gives a different effect, great for designs that tend towards the more minimal or earthy.
What kinds of fabrics can I embroider? I suggest starting with a heavier fabric, like denim or canvas to embroider on. You can work with lighter weight fabrics, but I highly recommend thinner threads and an embroidery hoop if you want to begin working with lightweight fabrics.
Knit fabrics require some experience, embroidering a t-shirt can be difficult to do with an embroidery hoop and you should practice getting the proper tension (how tight you pull the thread with each stitch) with your technique before approaching the final product. Too tight of a tension can create bunchy, unattractive stitches that also prevent the t-shirt from stretching. Embroidering a bulky sweater can be really fun, especially if you use a thick, chunky yarn. But as always, experiment before trying out a final design to see what works!
What is sashiko? This is a Japanese technique for mending fabrics using a basic running stitch to create patterns or simply reinforce fabric with patches. There are many patterns available all over the internet, but I'm more of the freestyle type so I can't really tell you the best place to find them!
I'm trying out this french knot aaaaand it keeps falling out! WTF am I doing wrong? Welcome to the club! This is the biggest complaint I get in my workshops, and it has to do with the direction you are winding the threads around the needle, or the knot is pulling through the fabric to the back.
Try this: after winding your thread around the needle (the 'loop' around the needle starts by wrapping the end of the thread that has come out of the fabric around the tip of the needle) insert a tiny bit away from the spot the thread initially came out of. Now, before pulling needle through, hold this loop down between your thumb (on top of the fabric) and forefinger (on the underside of the fabric) and then gently pull through to other side. If there's a little loop left coming out of the knot, try pulling the threads from the back to tighten this loop.
Doesn't it take forever, and isn't it super difficult? Embroidery is only as difficult as you make it. If you decide you're going to cover a pair of jeans in color... yes it will take you the better part of the next year (or longer). If you keep your design basic and accessible, you will be much happier with the results and much more likely to finish the product, which means you'll be much closer to getting it on your body or in your home!
I don't suggest trying to tackle complicated stitches right off the bat. Starting a design using one or two stitches not only keeps you from loosing interest, it also generally looks better and more unified, which gives you the confidence you need to keep going.
Do I need a pattern? I'm not an artist / I'm not creative / I can't even draw a straight line. You definitely don't need a pattern (but I do offer some in my Etsy Shop for embroidery patterns)! All humans are creative beings, stop telling yourself you are not. Feel free to try out your own design. One of my favorite techniques (elaborated on in my zine) is to start with a basic shape as the core of the composition, drawing a circle or square on the fabric with a water erasable pencil, then from this simple shape growing the design with another shape inside, surrounding, or building off of the first shape. Meditate on this, or walk away and go make a cup of tea, then come back and play with further elements that can be added, maybe some dots or stripes.
Continue adding or subtracting different shapes and details until you feel the design is beginning to go somewhere. This seems like a really basic "no-duh" approach, but pretty much the idea is that you get out of your head and onto the fabric as soon as possible. We have a tendency to overthink without taking any action, and we can easily work ourselves into a corner and abandon the project altogether, without ever having even tried. With just a few bucks, you can go out and get an erasable fabric marker or pencil, a color or five of embroidery thread, maybe even a hoop, and get to work! Oh, and stop believing the bullsh*t lies that people keep spreading about needing to draw a straight line to be able to create beauty.
Hungry for more embroidery education?
Check out my journal series on getting started with developing your own embroidery designs - once you've mastered a few basic stitches, you can jump into creating your own artwork - no patterns or art degrees necessary!!